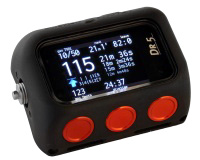 History

V 2.10 stable
CHG: High-low sensor voting
FIX: bailout menu in dive mode
FIX: USB mode file system access
NEW: USB mode watch dog
NEW: time and date menu after hard reset
NEW: fast boot to dive mode
CHG: return to CCR after Bailout dive
NEW: Calibrate info on surface screen
V 2.09 stable
FIX: custom view decolists
V 2.08 stable
NEW: up to 30 longer standby time
V 2.07 stable
FIX: O2 display of inactive sensors in surfmode
FIX: USB timeout
FIX: power consumption in standby after first start
FIX: menu colors in divemode
FIX: Gaslist selection on Bailout start in divemode
NEW: speed optimization level 2
V 2.06 stable
FIX: O2 and Scrubber display in dive mode
CHANGE: O2 calibration range extended
CHANGE: menu name for open circuit gas changes
V 2.05 stable
BUG: O2 sensors display not in seperate lines. Please use V2.02 for O2 monitioring prior to V2.06 release.
CHANGE: First Gas instead of Bottom Gas in menu
FIX: stop watch
FIX: end of dive
V 2.02 stable
CHANGE: start divemode exit counter if depth < 1.0 meter and
V 2.01 stable
FIX: stability with 1. generation motherboards
FIX: deco-info with 0 minutes did not disappear if TTS > 0 minutes
V 2.0 stable
NEW: VPM-B with GF
NEW: Bühlmann GF ( hw Version 3.0)
NEW: table mode
V 1.98 beta
DR5 redone.
CHANGE: new deco models
NEW: table mode
CHANGE: menu strucure surface
CHANGE: USB connectivity
CHANGE: menu structure dive
NEW: Future TTS
NEW: ceiling limit
NEW: brightness level 4
CHANGE: gas changes seperate for TRAVEL / DECO / BOTTOM
CHANGE: custom views in surface mode
CHANGE: logbook appearance
CHANGE: USB ends to standby
CHANGE: conservatism saturation / desaturation removed
CHANGE: decoplanner deactivated
CHANGE: no CCR in beta
CHANGE: snake deactived
INSTALL MANUAL:
Unpack to DR5 root directory . as some .system files will be changed for proper screen layout

V 1..60 stable
FIX: firmware old status
KNOWN ISSUES (20.June 2013): surface-decoplanner with fixed setpoints has faulty output
V 1..50 stable
FIX: battery status
FIX: snake below 30 mtr.
V 1.32 stable ( V1.30 build 1.32 )
FIX: gaschange warnings now based on ppO2 stop limits instead of ppO2 attention values
V 1.31 stable
CHANGE: custom I 'warnings' II 'core' back again in Dive Setup
CHANGE: depth without leading zero
CHANGE: ppO2 out of 0.2 to 1.60 range with 'STOP' warning sign
V 1.30 stable
FIX: UDDF 3.1 logbook
CHANGE: warn system during dive
known issues: battery charging - green LED @ 70

V 1.22 stable
FIX: Logbuchspeicherung
NEW: leicht veränderter black skin
V 1.20 stable (release 31.01.2012)
NEW: Deaktivierung und Reaktivierung von einzelnen Gaswechseln im Tauchmodus
NEW: individuelle An-/Abschaltung von defekten O2 Sensoren im Tauchmodus
NEW: Kalk/Scrubber Uhr
NEW: direct config via PC
NEW: UDDF 3.1 mit CCR und ppO2 Infos in der Logbuch Datei
NEW: Automatische Installation von Firmware Updates
NEW: intelligenter USB Modus
NEW: vorbereitet für digital I/O
NEW: black skin
FIX: Anzeigen im Tauchmodus
FIX: Seriennummer Auswertung